BIVROST® Lite5™ mini-STX platform - engineering batch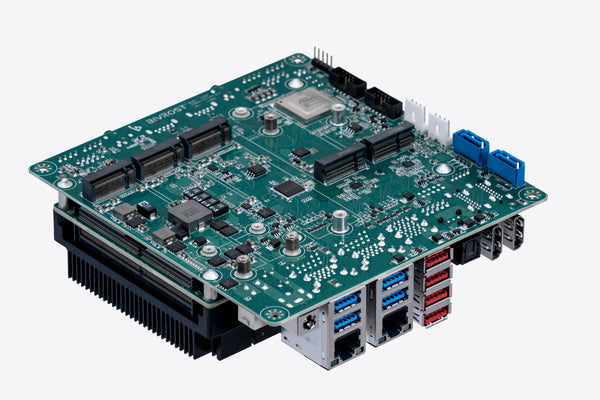 BIVROST® Lite5™ mini-STX platform - engineering batch
BIVROST® Lite5 Platform is a high-performance small form factor computing unit designed for high demands purposes. Lite5 combines a versatile carrier board / motherboard with COM Express Basic Module Type 6. and (optional) extension M.2 cards.
Enjoy free shipping of BIVROST Lite5 using promo code: SUMMER-IO. The discount code is valid until 06/30/2022.
SPECS:
CPU (default):
Intel Core i7-8850H and Intel® UHD Graphics 630 GPU with 6 cores and 12 threads on base frequency 2.6GHz and max single core 4,3 Ghz, 45W / 35W CPU TDP
Memory:
16 / 32 / 64 / 96 GB DDR4 (2DPC: Up to DDR4 2400 x 3 SO-DIMM/1DPC: Up to DDR4 2666 x 2 SO-DIMM)
Storage:
256 GB SSD
OS:
None by default. Compatible with: Windows 10, Windows 11, Windows embedded, Ubuntu Linux
VARIANTS:
CPU (opt 1):
Intel Core i5-8400H and Intel® UHD Graphics 630 GPU with 4 cores and 8 threads on base frequency 2.5GHz and max single core 4.2 Ghz, 45W / 35W CPU TDP
CPU (opt 2):
Intel Xeon E-2276ME and Intel® UHD Graphics P630 GPU with 6 cores and 12 threads on base frequency 2.8GHz and max single core 4.5 Ghz, 45W / 35W CPU TDP
CPU (opt 3):
Intel Core i7-9850HL and Intel® UHD Graphics 630 GPU with 6 cores and 12 threads on base frequency 1.9GHz and max single core 4.1 Ghz, 25W CPU TDP
CPU (opt 4):
Intel Core i3-9100HL and Intel® UHD Graphics 630 GPU with 4 cores and 3 threads on base frequency 1.6GHz and max single core 2.9 Ghz, 25W CPU TDP
NOTE: By purchasing BIVROST® Lite5 engineering batch you declare engineering usage of product. Engineering samples are fully tested early access intended units with a Declaration of Conformity. Engineering samples are sold in a B2B model and are not eligible for customer warranty. BIVROST has no program for customer warranty support of engineering samples. Please read the Terms of Use for Engineering Sample.
Discover our (co-)design and cooperation principles

BIVROST® Lite5 STX Platform is a 5" mini-STX form factor motherboard designed to face the challenges of the AI/ML, edge computing and industry 4.0 applications. Created to take I/O capacity to a next level, maximize the potential of the unified memory architecture and provide the ability to run 24/7.

Pure compute power

The Lite5 Platform provides by default hexa-core CPUs with SMT (Hyper-Threading) technology for 12 thread processing power and up to 4.3 GHz single thread clock. Supercharged by 8th/11th generation of embedded Intel® Core™ processors and thermal design power set to 45W sustained load is possible at high clock frequencies without thermal throttling reaching over 110 GFLOPs or raw CPU performance.

Astonishing media processing

The Lite5 Platform was designed with fast media processing in mind. Integrated Intel UHD 630 graphics can extensively accelerate video decoding and encoding with multiple streams up to 4K@60 with a low power footprint. Unified memory lowers bandwidth requirements extending available video memory up to half-installed system memory (8GB in basic configuration) for data-intensive tasks. Selected GPU also provides GPGPU compute features like OpenCL, DirectCompute and Vulkan API support.

Unparalleled industrial standards

BIVROST® Lite5 Platform is designed and manufactured based on industry-leading Advantech production lines. It meets the requirements of 24/7 service just like any other industrial computer unit. Thermal design and industrial-grade components guarantee a long product lifespan.
The hardware platform benefits from COM Express standard. Off the shelf COM Express Basic Type 6 module from Advantech lowers the production cost of the custom-designed carrier board.
If you are interested in your own license to produce the Lite5 boards (under your own brand) or add any extra features - let's talk.

Compact form factor and CNC customisation

The Lite5 can be ordered as OEM, with a development bench table or a reference CNC milled aluminum chassis. Depending on the expansion cards selected or other requirements - it is possible to order additional changes in the chassis design. We provide CAD / CAM engineer support and a full manufacturing process.


Future proofing by design

COM Express standard future proofs BIVROST® Lite5 Platform to be forward compatible with upcoming 11-gen or newer Intel® processors and Windows 11. With additional CPU power and much faster 12th generation graphics, new SOM modules can replace current 8th gen units used for this platform without product redesign and postponing market entry.

Exclusive engineering support

A dedicated support engineer is assigned to each board. The scope of support includes: system integration (physical and operating system), performance optimization for media processing, enclosures and cooling systems, software development.
Technical specifications
size (w/l/h): 147mm x 140mm x 50mm
Form Factor

Mini-STX 5" x 5"
(147×140×50 mm)(5.79"×5.51"×1.97")

CPU

Cooling

High efficiency / no thermal throttling cooling

DRAM

2x 8GB DDR4 2666 in dual channel mode (up to 96GB), ECC optional

Ethernet

Graphics

Integrated Intel UHD 630 graphics with 24 Compute Units | Supporting 2 independent display units (4K) | DirectX 12 support | H.264/AVC HW 8b | H.265/HEVC HW 8/10b | 2x HDMI 2.0

Wireless

1x m.2 2230 desined for Intel® Dual Band Wireless-AC 8260

Ethernet

1x 1Gbps ethernet adapter (RJ45)

Video output

Expansion

3x M.2 2280/2260 slots M key (4x PCIe 3.0 lanes per slot)*
1x M. 2242/2260 slot for SATA SSD system drive
1x M.2 2230/2232 slot for WiFi card

*Two M.2 ports with 2260 size option, one with 2280 mounting point fixed.

I/O Interfaces

2x 3.5mm headphones and microphone jacks
2x USB 3 (5Gbps) front ports (shared bandwidth)
4x USB (10Gbps) rear connectors (shared bandwidth)
4x USB 3.1 (10Gbps) rear connectors (dedicated bandwidth)*
1x optical audio out
2x HDMI 2.0 4K output

*16 Gbps shared bandwidth per each port pair


Internal Connectors

1x LVDS 4bit Dual channel, max. 1920x1200@60Hz
1x Backlight (power, control)
8x GPIO with PWM support*
2x UART
1x I2C
1x 5.1 HD audio header
2x USB 2.0 9-pin header
2x SATA3
2x aux power 5V/12V (up to 1A load)
4x programmable 4-pin PWM fan headers

*Only 4 GPIO pins support PWM

Power

12V internal (4-pin ATX connector)*
19V external (DC jack 5.5/2.5 mm)*
180W power supply rating

*Either 12V or 19V can be connected. Connecting both at the same time will damage the board.

Operating system

Windows 10
Windows 11
Ubuntu Linux 18.04 or newer

Temperature

Operating: 0 to +40°C Storage: -20 to +60°C

Humidity

10% to 85% @ 40° r. H. non cond.
Case study: multi-cam live video processing
The challenge of this project was to create a cloud-free, multi-camera live streaming mixer with an automatic switching system based on image analysis.
Minimalist form factor is combined with high I/O performance. Key features: real-time 4K video capture, mixing, colour grading and streaming with sub 10 frames latency.
Usage of Unified Memory Architecture (UMA) allowed to achieve fast in-place data operations (zero-copy paradigm).
Usage of iGPU acceleration as a coprocessor for data processing allowed to perform not only graphical data and to relieve general CPU load.
The achieved usage of CPU routed PCIe lanes for ultra-fast I/O performance:
- Full bandwidth for 3 M.2 M-Key PCIe x4 ports simultaneously
- Full bandwidth for 4 USB 3 ports working simultaneously
Fast redundant Gigabit networking
An external M.2 neural network accelerator with 2 TOPS capability was used to boost live analysis of the processed video stream and to support the live production decision support machine.
Low noise operation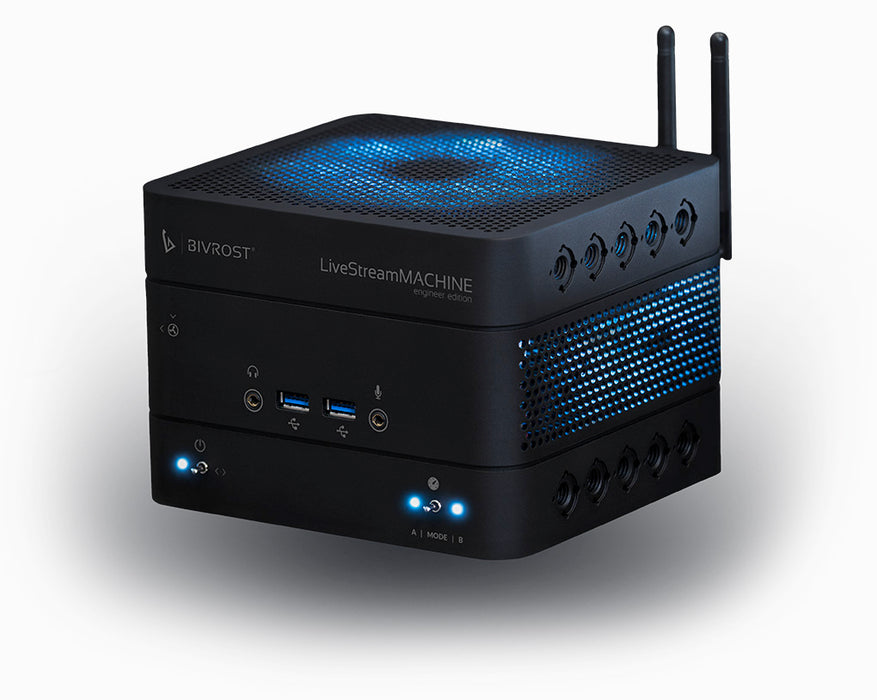 Shipment

up to 48h (if there is a bare motherboard in the package) or up to 10 days (if bench table selected) of up to 30 days (if CNC milled chassis requires customization)

BIVROST® Lite5 Packing List

- motherboard
- COM Express Type-6 module
- Integrated heatspreader
- DDR4 RAM
- 256GB SSD
- WiFi card and antennas (if selected)
- chassis bench table (if selected)
- M.2 extension cards (if selected)